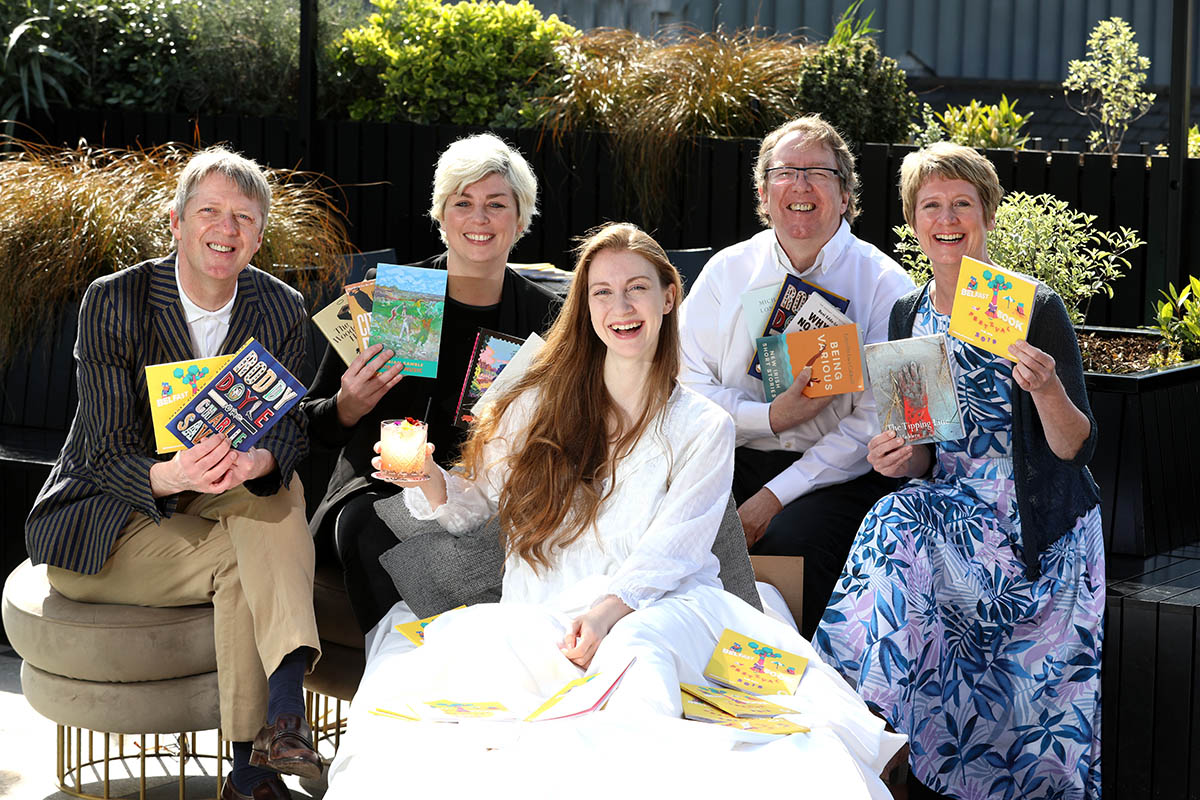 The festival:
Delivered 75 events

Used 10 external venues across the city

Was attended by 1,617

customers

Delivered 3 Outreach projects which were attended by 755 participants

Involved 13 members of staff, 8 volunteers and 150 artists (local and international)
Acclaimed Irish novelist Roddy Doyle was joined in conversation with Glenn Patterson to discuss his work, including his twelfth novel, Charlie Savage.
Renowned chef, restaurateur, food writer and judge of The Great British Bake Off Prue Leith joined us to talk books, cakes and necklaces.
We welcomed renowned journalist and commentator Paul Mason back to the Festival to discuss his new book Clear Bright Future: A Radical Defence of the Human Being.
One of the most influential feminists, Naomi Wolf, joined us to discuss new book and her fascinating career as a social activist, bestselling author, journalist and former political advisor to Al Gore and Bill Clinton.
Former hostage Terry Waite, was joined by Alex Kane, to discuss his fascinating book, which tells the story of him being kept hostage in Beirut for a total of 1,763 days.
The Sunday Times bestselling author Alan Johnson joined us to talk about his third memoir, which talks through his life as a young aspiring musician, a prominent Union member, an MP and a member of the New Labour cabinet.
The author or numerous best-selling novels including The Absolutist, The Heart's Invisible Furies and The Boy in the Striped Pyjamas, John Boyne, joined us to discuss his multifaceted writing career.
Extravagant and grotesquely fantastical, Will Self joined us to talk about his writing, that shifts our perspectives by creating a variety of vastly unstable versions of the world.
In partnership with the Seamus Heaney Centre, we celebrated the 80th Birthday of the renowned poet and national treasure, Michael Longley, with an evening of conversation, music by Duke Special and readings, including by the man himself.
In partnership with the Seamus Heaney Centre, we were delighted to welcome to the Festival, the Poet Laureate of the United States, Tracy K Smith, for an evening or readings and conversation.
The UK's foremost forensic pathologist Dr. Richard Shepherd joined us to talk about his book, Unnatural Causes, which charts his 25 year long career.
We welcomes poet, lyricist, librettist, translator, critic, editor and professor, Paul Muldoon, to The Crescent to discuss his career that spans decades and genres.
David Kogan opened the 2019 Belfast Book Festival as he discussed his new book, Protest and Power, with local commentator, Alex Kane.
Joined by BBC's Seamus MckKee, former MP, Foreign Secretary, doctor and founding member of the SDP, Lord David Owen, offered us a new way of seeing Trump.
Award-winning journalist, Reni Eddo-Lodge, was joined by Emma Dabiri to discuss her multi-award winning book, Why I'm No Longer Talking to White People About Race
Food writer, journalist and fearless campaigner, Jack Monroe, joined us to discuss his latest book, Tin Can Cook, which was a timely recipe book in the age of austerity and the society we live in today.
I have attended the BBF for the last 5 years and thought this year's programme was exceptional in its range of both authors and events. Audience Member
The programme had such a variety of events there was something for everyone. Audience Member
Congratulations on an excellent programme and well run event - I overheard people saying it had been run so professionally. We are so lucky to have this festival and my only issue that with so much to choose from, I reach saturation point a few days in and invariably don't get to everything I wanted to attend - that's a minor issue, the main thing is that the festival is attracting some great names in literature but also making room for the new, quieter voices which I believe is so important. Thank you and wishing you continued success. Audience Member
Click on the cover bellow to read the Belfast Book Festival 2019 programme.